Meu Projeto
Os desenhos formados pelas estrelas - AS CONSTELAÇÕES - são como janelas que se abrem para a infinitude do universo
e que possibilitam nossa mente a ir percebendo que existe mais, bem mais, entre o céu e a terra...;
bem como percebendo que o caos, vagarosamente, vai se tornando Cosmos e este por nossa mente sendo conscientizado.
Quer dizer, nossa mente é tão infinita quanto infinito é o Cosmos.
http://www.raremaps.com/gallery/enlarge/33613
http://www.raremaps.com/gallery/detail/33613/Celestial_Map_of_the_Southern_Hemisphere/Pardies.html
Pássaros do Sul
Tucano, Grou, Pavão
e
Fênix....
...................................
e não podemos nos esquecer de Apus, a ave-do-paraíso!?
..........................................
e a Pomba de Noé?!
...........................
E o Peixe Voador?!
Pássaros reais e Pássaros Míticos.
https://upload.wikimedia.org/wikipedia/commons/thumb/b/b5/

Johann_Bayer_-_Uraniometria_-_Southern_Birds.

jpg/838px-Johann_Bayer_-_Uraniometria_-_Southern_Birds.jpg
É interessante percebermos o fato de que
muitas das constelações mais ao sul
foram figuradas e nomeadas
nos Séculos XVI (bem ao final), XVII e XVIII.
Petrus Plancius
Petrus Plancius
(1552 – May 15, 1622) was a
Flemish
astronomer
,
cartographer
and
clergyman
. He was born as
Pieter Platevoet
in
Dranouter
, now in
Heuvelland
,
West Flanders
. He studied
theology
in Germany and England. At the age of 24 he became a
minister
in the
Dutch Reformed Church
.
In 1595 Plancius asked
Pieter Dirkszoon Keyser
, the chief pilot on the
Hollandia
, to make observations to fill in the blank area around the south celestial pole on European maps of the southern sky. Keyser died in
Java
the following year – the expedition had many casualties – but his catalogue of 135
stars
,
[3]
probably measured up with the help of explorer-colleague
Frederick de Houtman
,
[4]
was delivered to Plancius. These stars appear as 12 new southern
constellations
,
[4]
on a 35-cm celestial globe designed by Plancius in late 1597 (or early 1598) and produced in collaboration with the Amsterdam cartographer
Jodocus Hondius the Elder
. The 12 new constellations (mostly referring to animals and subjects described in natural history books and travellers' journals of his day) are
Apis
the Bee (later changed to
Musca
by
Lacaille
),
Apus the Bird of Paradise
,
Chamaeleon
,
Dorado
the Goldfish (or Swordfish),
Grus the Crane
,
Hydrus
the Small Water Snake,
Indus
the Indian,
Pavo the Peacock, Phoenix
,
Triangulum Australe
the Southern Triangle,
Tucana the Toucan, and Volans the Flying Fish
. (The Southern Triangle and Southern Cross were reported as asterisms by earlier navigators and appear on earlier charts,
[5]
but the globe of 1598 is the first surviving source that plots their locations reasonably accurately.) Also notable is the inclusion of Achernar as Alpha Eridani.
These constellations, together with the constellation
Columba
illustrated by Plancius on his large wall map of the world of 1592, were then incorporated in 1603 by
Johann Bayer
in his sky atlas, the
Uranometria
.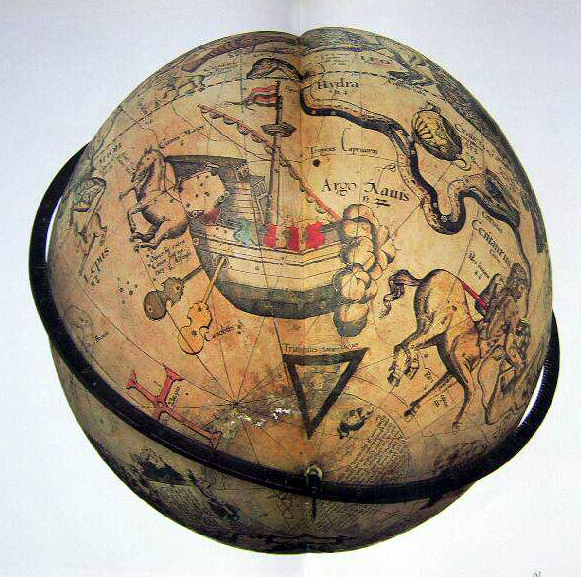 Johann Bayer
, 1603, astrônomo. Obra: Uranometria.
Relaciona 60 constelações, incluindo as circumpolares Sul, cuja nomenclatura conclui e unifica.
Acrescenta 12 constelações.
Ave-do-Paraíso, Camaleão, Dourado, Grou, Hidra Macho, Índio, Mosca, Pavão, Fênix, Triângulo Austral, Tucano, Peixe-Voador
??? Jacob Bartsch
, 1624.
Pomba ??
Bayer
é mais famoso pelo seu
atlas estelar
Uranometria
, publicado em
1603
e que foi o primeiro
atlas
a cobrir toda a
esfera celeste
. Este trabalho introduziu um novo sistema para designar as estrelas, usando a notação grega e latina, que se tornou conhecido com nomenclatura, ou
designação, de Bayer
. A maioria das notações atribuídas por Bayer e por astrónomos posteriores que adoptaram o seu sistema permanece em uso até aos dias de hoje.

E vamos encontrar
Hevelius, Royer e La Caille
nomeando e reafirmando
várias outras constelações,
algumas mais ao sul e outras não:
Hevelius
, 1690, astrônomo amador, selenógrafo. Obra: Sete Cartas Celestes.
Dá nome a 9 constelações:
Girafa, Cães de Caça, Lagarto, Leão Menor, Lince, Unicórnio, Escudo, Sextante, Raposa
Royer
, 1697, navegante francês. Obra: Carta Celeste. Desmembra a Cruz Australis da constelação do Centauro. Cruzeiro do Sul
La Caille
, 1752, astrônomo.
Obras: Memórias e Céu Estrelado.
Introduz 14 novas constelações:
Máquina Pneumática, Buril, Compasso, Forno, Relógio, Mesa, Microscópio, Esquadro, Oitante, Pintor, Bússula, Retículo, Escultor, Telescópio
E divide a extensa constelação ptolomaica Argo, o Navio, em Carina, Puppis e Vela.
Da Terra ao Céu
Constelações, Estrelas e Objetos Celestes
(sob o ponto de vista do Mundo Ocidental)
Suas histórias, seus mitos, seus significados e suas sintetizadas descrições
Reunião das Informações e Compilação,
Tradução para a língua portuguesa (em alguns momentos)
bem como Comentários Pessoais:
Visitando os Sites abaixo,
você conseguirá informações atualizadas e preciosas
sobre os Objetos Celestiais de seu interesse:
NASA/IPAC
EXTRAGALACTIC DATABASE –
NASA/IPAC Extragalactic Database (NED) -
operated by the Jet Propulsion Laboratory, California Institute of Technology, under contract with the National Aeronautics and Space Administration.
The night sky atlas creates images of any part of the night sky, allowing easy location of any object. Detailed chart images show all stars visible to the naked eye, the constellations, Messier objects, and names of the brightest stars.
The
Internet STELLAR DATABASE
- stars within 75 light-years. (Plus some of the more well-known "name brand" stars farther away.)